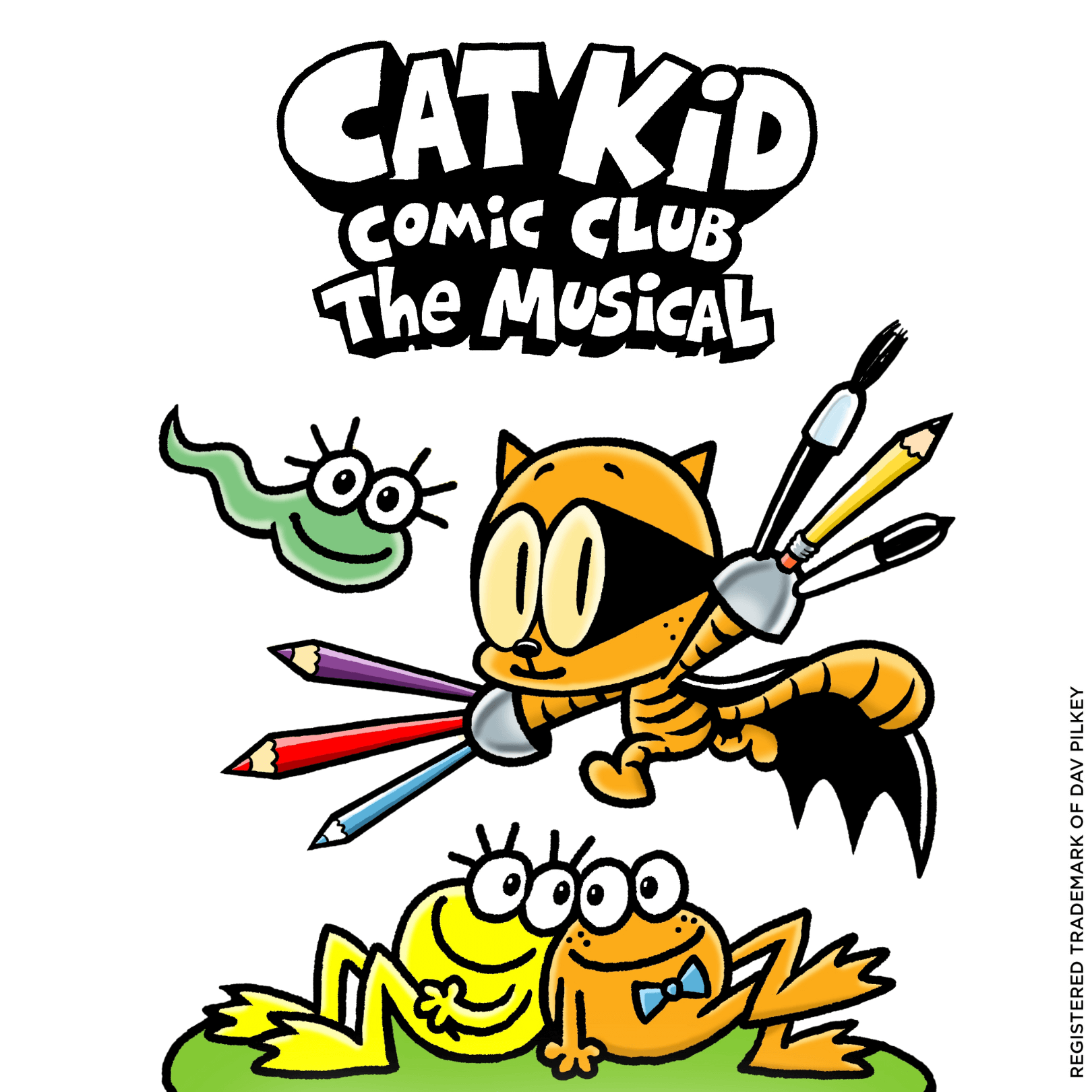 The Lucille Lortel Theatre
July 21 - August 27
Cat Kid Comic Club: The Musical is a hilarious new production! Cat Kid and Molly Pollywog have started an epic club to teach 21 rambunctious baby frogs how to make their own comics! Their fishy father Flippy is overjoyed that his kids will learn to unleash their creativity, but when the frogs' constant bickering and outrageous imaginations send their comics comically off the rails, Flippy flips out! Will the club survive? Will the frogs ever get along? And will creativity finally save the day? All will be answered in this madcap musical based on Dav Pilkey's irreverently hilarious book series.
This hilarious musical adaptation of Dav Pilkey's Dog Man spin-off series, Cat Kid Comic Club, is written by Kevin Del Aguila and Brad Alexander - the team that brought you DOG MAN: THE MUSICAL! And directed and choreographed by Marlo Hunter!
Approximate Running Time: 60 minutes
Recommended For: Grades 1 through 5
---
Join TheaterWorksUSA's Family Fan Club to enjoy the best seats in the house at the lowest available prices!
TWUSA's Family Fan Club Members will receive an exclusive discount to purchase up to four $35 tickets to Cat Kid Comic Club: The Musical during its world premiere engagement at the Lucille Lortel Theater in New York City.
---
You can join TheaterWorksUSA's (TWUSA) Family Fan Club today by making a tax-deductible

donation of $150 or more

in support of our mission to bring exceptional, transformative theatrical experiences to young and family audiences in diverse communities across New York City and North America.


Additional Membership Benefits Include:
Recognition as a

TWUSA Family Fan ClubMember in theOfficial Cat Kid Comic Club: The Musical Program and on TWUSA's Website.
Exclusive Invitations to TWUSA Family-Friendly Events and Activities
A Year-Round Subscription to TWUSA's Newsletter

, Including Advanced Notice of Upcoming Performances, Events, and Activities.

A Souvenir Gift of Recognition.

---